This post may contain affiliate links.
Last week, I answered the question "Do I need a curriculum to teach my preschooler?" My answer was no. You certainly don't need a curriculum to teach your preschooler.
However, I also mentioned that many homeschool moms feel more comfortable using a curriculum. The benefit of using a curriculum is that someone else has already done the work of preparing a scope and sequence. Someone else has already pulled together the lessons in a sequential order. It can certainly alleviate a lot of stress for beginning homeschoolers.
Preschool Curriculum Options
I am a homeschool mom that likes to use a curriculum for preschool. I have a teaching degree, but it made me feel like I wasn't missing anything. I didn't feel like I couldn't do it on my own, but I didn't want to pull stuff together on my own. I had two older kids I was homeschooling. Relying on a prepared curriculum took a weight off my shoulders and allowed my little ones to "do school" with their older siblings.
So, now that you've decided to use a curriculum to teach your preschoolers, which one will you choose? There are many options. I have listed several options below:
Pros: Everything is already pulled together for you. There are workbooks, flash cards, song CD's, and a teacher's guide. It's written from a Christian perspective.
Cons: It's pricey, and it's geared more toward a preschool classroom so we skipped many of the activities and all of the 'homework.'
Pros: Very low-prep. Lessons are unobtrusive and flow naturally from each book. The books are sure to become family favorites.
Cons: Some of the books are out-of-print making them a little harder to find.
Pros: The lessons are free. You have the option of purchasing the printables pack or printing it out yourself.
Pros: Christian. Thorough lessons. Fun hands-on activities.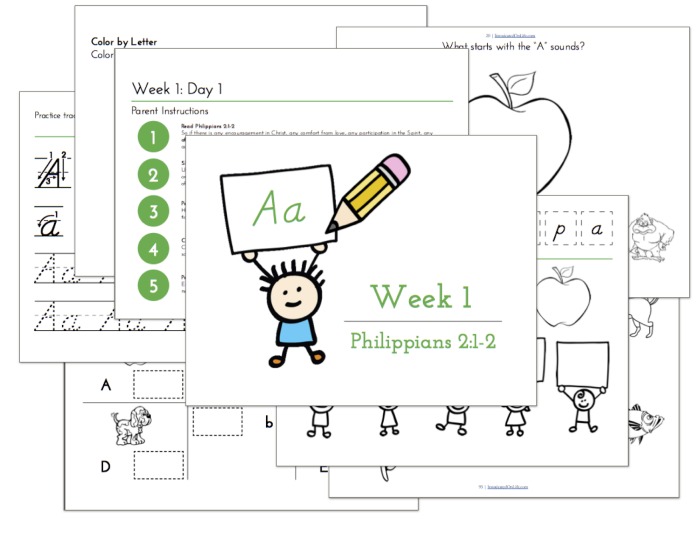 Pros:  Inexpensive. Covers the entire year. Christian. Wide variety of options to meet individual needs.
Cons: Not an all inclusive curriculum so you'll still need to add math.
Latest posts by Homeschool Preschool
(see all)